Shop Online | Deliveries on Wed, Thu and Fridays | Lisbon and Oporto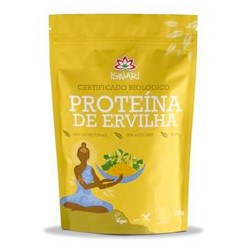 Product Description:
A proteína de ervilha é uma proteína natural crua e em pó que se prepara em poucos instantes. É a melhor escolha para aqueles que precisam de uma ingestão extra de proteína, mas que querem evitar o leite e seus assim como o trigo, glúten, ovos e soja.

Ingredientes:
100% Proteína de ervilha de agricultura biológica certificada por
Certiplanet PT-BIO-04.

Alergénios:
Pode conter vestígios de frutos de casca rija (amêndoas e avelãs), sementes de sésamo, aveia e amendoins.

Sugestões de Utilização:
Adicionar 1 a 2 colheres de chá a batidos, sumos e sopas.

Conservar em local fresco e seco.
Recipes with Pea Protein Powder
There is a total of 1 recipes at Cuizeat with Pea Protein Powder