Buy Online | Deliveries on wed / thu or fridays | To all Portugal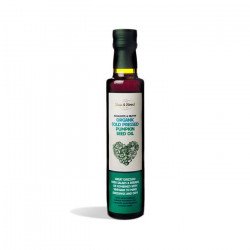 Óleo de Sementes de Abóbora BIO
250mL
Sun&Seed
EAN: 5060096250104
Ingredient: Pumpkin Seed Oil
Product Description:
Este óleo de sementes de abóbora biológicas é obtido através de pressão a frio, usando técnicas tradicionais que preservam as excelentes propriedades nutricionais das sementes.
Possui um sabor requintado a frutos secos, sendo ideal para temperar saladas e acompanhar pão, tostas ou, combinado com vinagres, molho, etc.

Ingredientes:
100% Óleo de sementes de abóbora de agricultura biológica certificada RS-BIO-154 Agricultura UE

Alergénios:
Pode conter vestígios de frutos de casca e rija e sementes de sésamo.

Conservar num local fresco e seco. Após abertura consumir no prazo de 3 meses.
Recipes with Pumpkin Seed Oil
There is a total of 0 recipes at Cuizeat with Pumpkin Seed Oil
This product does not have any recipes to display at the moment!