Buy Online | Deliveries on wed / thu or fridays | To all Portugal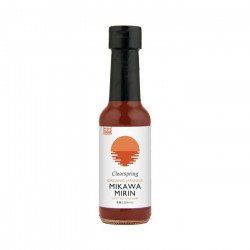 Molho Mikawa Mirin BIO
150mL
Clearspring
EAN: 5021554987604
Ingredient: Mikawa Mirin Sauce
Product Description:
O mikawa mirin biológico é um molho líquido, espesso e doce. Um tempero requintado, com a capacidade de passar o seu sabor para a comida.

Ingredientes:
Arroz glutinoso* (52%), água, arroz fermentado*.
* de agricultura biológica

Menções Complementares:
Adequado a vegans

Conservar em local fresco e seco.
Recipes with Mikawa Mirin Sauce
There is a total of 0 recipes at Cuizeat with Mikawa Mirin Sauce
This product does not have any recipes to display at the moment!