Buy Online | Deliveries on wed / thu or fridays | To all Portugal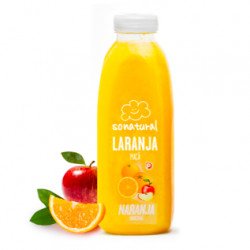 Sumo 100% Natural Mix Laranja
750mL
Sonatural
EAN: 5603493001940
Ingredient: Fruit Natural Juice
Product Description:
Lista de ingredientes:
Maçã 50%; Laranja 50%.
Informações Nutricionais:
Valores médios por 100ml: Energia | 199kJ / 47kcal / 41.00 kcal; Lipidos: 0.1g; Hidratos de carbono: 10.5g; Proteinas: 0.34g.

Conservar no frigorífico entre 0ºC e 5ºC.
Recipes with Fruit Natural Juice
There is a total of 0 recipes at Cuizeat with Fruit Natural Juice
This product does not have any recipes to display at the moment!