Buy Online | Deliveries on wed / thu or fridays | To all Portugal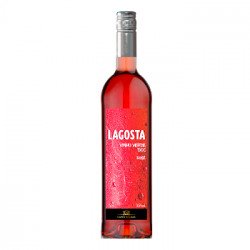 Vinho Verde Lagosta DOC Rosé
75cL
Caves Velhas
EAN: 5601110003995
Ingredient: Green Wine
Product Description:
CLASSIFICAÇÃO
DOC


REGIÃO
Vinho Verde


CASTAS
Espadeiro, Borraçal, Padeiro.


ENÓLOGO
Nuno Faria


ASPECTO
Cristalino.


COR
Rosado vivo.

AROMA
Bastante fresco e agradável com um ligeiro floral e notas bem marcadas de rebuçado de morango.
SABOR
Frutado, fresco, equilibrado e ligeiramente crocante.


VINIFICAÇÃO
Desengace total, prensagem pneumática e fermentação alcoólica a 15ºC.


SUGESTÕES DE CONSUMO
Para consumir como aperitivo ou para acompanhar pratos à base de peixe, mariscos e carnes brancas, assim como iguarias Chinesas e Italianas. Consumir à temperatura de 6-8ºC.
Recipes with Green Wine
There is a total of 0 recipes at Cuizeat with Green Wine
This product does not have any recipes to display at the moment!