Now, login to Cuizeat and checkout at Continente Online!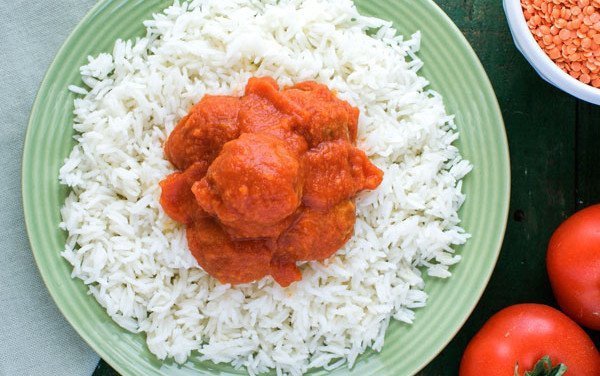 Meatballs Of Lentils
with basmati rice and tomato sauce
Do you love meatballs but prefer a healthier alternative? You just found the solution! These lentil meatballs are made for a healthier and tastier meal as well, because they are full of vegetables. You really can't stop experimenting.
Ingredients
---
You will also need:
The following ingredients will not be added to your grocery list.
Nutritional Information
Calories (kcal)
Energy (Kj)
/ Per Dose
453 kcal
1,897 Kj
Nutritional real facts per meal might have small variations from the website nutritional info.​
03
Mix tomato sauce well and set aside.
04
Grind everything roughly with the magic wand and stir well. Make 20 meatballs and wrap them with breadcrumbs. Line the baking tray with parchment paper and arrange the meatballs. Place the oven at 180ºC and leave the meatballs about 20 minutes until golden brown.
01
Wash the rice well and drain, placing it in a deep pan.
04
At the end stir with the help of a fork (not a spoon) so the rice is very loose.
Note: This recipe makes 18-20 meatballs. A single serving equals 4-5 meatballs.