Now, login to Cuizeat and checkout at Continente Online!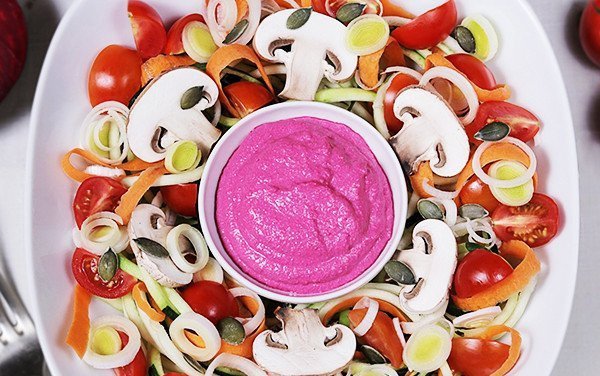 Courgette and Carrot Salad with Beet Hummus
w / mushrooms and tahini
Salads don't have to be the classic tomato and lettuce, innovate and get inspired by colorful and nutritious recipes. Get out of your comfort zone and risk unlikely mixtures that will make your meals full of charm, flavor and nutrition. To complete the meal we add, among many other fresh ingredients, chickpeas, which are the legumes that provide the basis for the hummus recipe. Important source of vegetable protein and rich in several nutrients and minerals that play vital functions in our body.
Ingredients
---
You will also need:
The following ingredients will not be added to your grocery list.
Nutritional Information
Calories (kcal)
Energy (Kj)
/ Per Dose
771 kcal
3,225 Kj
Nutritional real facts per meal might have small variations from the website nutritional info.​
1st and 3rd Days of the Detox Easy Plan - lunch. To make the daily dose of the salad, use half the amount of each ingredient (only if you are doing the detox easy plan).
02
Apart from spiraling the courgette with the skin using a proper device, or if you don't have it, you can use a potato peeler.
02
Grind all the ingredients to a smooth and creamy puree.
03
After well ground, adjust the seasoning and add a little water (optional) if it doesn't have the desired consistency.
04
It is ready to serve or store in the refrigerator to eat later with the mix of vegetable sticks.