Now, login to Cuizeat and checkout at Continente Online!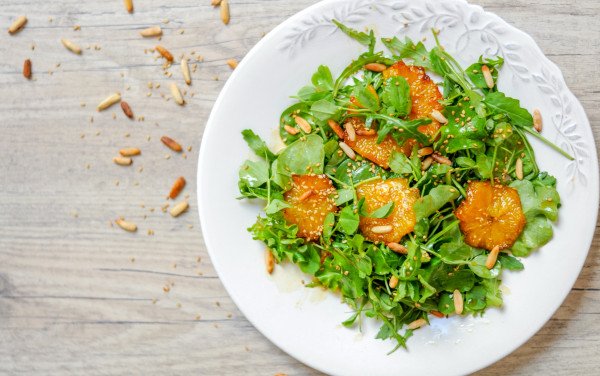 Green Salad with Caramelized Oranges
with sesame seeds, pine nuts, spinach, arugula and brown sugar
The contrast of flavors works very well and if we add dried fruits to give it a crunchy touch, it gets even better. This salad can take the green leaves we like the most, we can mix everything from spinach, watercress, lettuce, arugula, to others such as cabbage pack choi, red giant or even chard. .

---
Ingredients
---
You will also need:
The following ingredients will not be added to your grocery list.
Nutritional Information
Calories (kcal)
Energy (Kj)
/ Per Dose
167 kcal
700 Kj
Nutritional real facts per meal might have small variations from the website nutritional info.​
03
Cut the oranges into slices and add them in the frying pan and let it caramelize for about 1 min on each side.
04
Reserve the orange slices and pour the remaining caramel in a jar.
06
Place the washed and dried green leaves and the caramelized orange slices on a platter. Pour the sauce on top and sprinkle with the dried fruit.