Now, login to Cuizeat and checkout at Continente Online!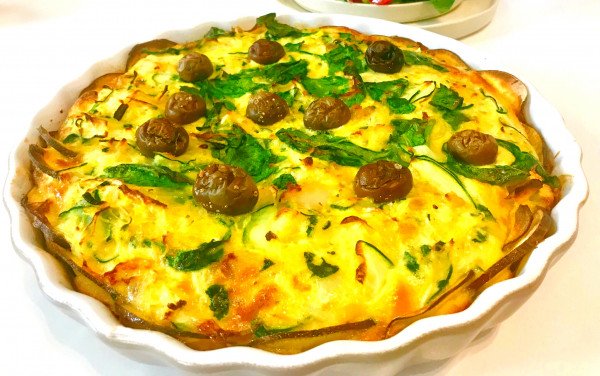 Cod Pie
with sweet potatoes, eggs, spinach, courgette, leek, parsley, coriander and coconut milk
A delicious Cod and spinach pie super quick to make and absolutely irresistible!
Ingredients
---
You will also need:
The following ingredients will not be added to your grocery list.
Nutritional Information
Calories (kcal)
Energy (Kj)
/ Per Dose
241 kcal
1,009 Kj
Nutritional real facts per meal might have small variations from the website nutritional info.​
01
Cut the sweet potato into thin, uniform slices. Arrange them circularly in a form suitable for pies and bake at 180º for about 10min. Remove and set aside.
04
Add the spinach and cook for another 10 minutes. Turn off the heat and set aside.
05
Beat the eggs well with the coconut milk (if you choose to use the optional potato starch, add it now, together with the egg). Add the cod with the vegetables and mix well.
07
Bake for about 20 min at 180º (or until golden). And it is ready to be served. As a topping you can add green olives to taste (optional).
Note: This recipe is for 6 slices of pie. An individual serving equals 1 slices.