Now, login to Cuizeat and checkout at Continente Online!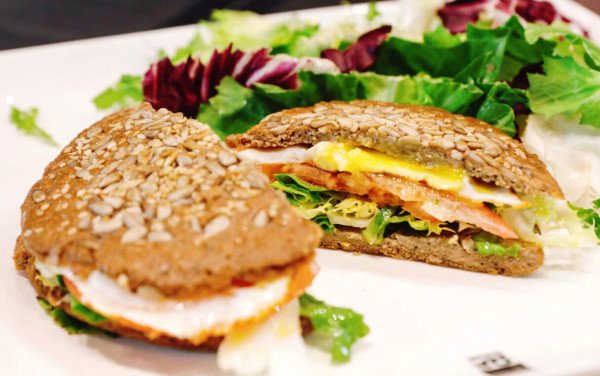 Frying Pan Bread
with almond flour, coconut flour and flax seeds
A low carb bread simple and quick to make! It can be stuffed with smoked salmon, tuna in water or simply serve as a mixed sandwich. Gonna love it! ;)
Ingredients
---
You will also need:
The following ingredients will not be added to your grocery list.
Nutritional Information
Calories (kcal)
Energy (Kj)
/ Per Dose
338 kcal
1,413 Kj
Nutritional real facts per meal might have small variations from the website nutritional info.​
To make the individual dose use 1/6 of the amounts of the ingredients.
01
mix all the flours and yeast well.
03
There should be a thicker dough, if it is too liquid, add a little more of one of the flours.
04
Heat a frying pan, lightly greased with coconut oil or olive oil.
05
With the frying pan on the smallest spout and minimum heat, place the dough about 1 cm high.
06
Decorate with seeds and cover, cook for about 1 to 2 minutes.
07
Uncap and turn the bread, cook another 30 seconds and remove from the pan.
Suggestion: This recipe can be made as a breakfast by adding cheese and / or ham, but also as a snack by adding salmon and / or tuna.
Note: this recipe is for 6 breads. An individual serving equals 1 bread.