Now, login to Cuizeat and checkout at Continente Online!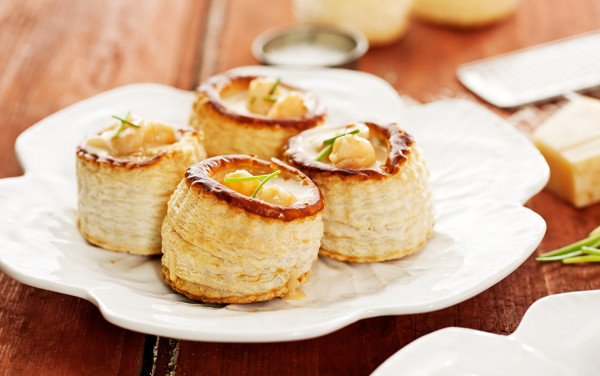 Vol-au-Vents with Shrimp Stuffing
with bechamel, egg, parmesan cheese and chives
For those who can't resist a delicious aperitif. Add a touch of sophistication to your table and try this suggestion inspired by French cuisine!
Ingredients
---
You will also need:
The following ingredients will not be added to your grocery list.
Nutritional Information
Calories (kcal)
Energy (Kj)
/ Per Dose
768 kcal
3,211 Kj
Nutritional real facts per meal might have small variations from the website nutritional info.​
01
Preheat the oven to 200 ° C.
03
With a cutter (or a small cup), make 24 circles in total puff pastry.
04
Now within 12 of those circles, make 1 smaller circle and remove them, with circles in the shape of a "hoop".
06
Then remove the 12 "rings" and place them on top of the "big circles" and bake in the oven for about 15 min at 200ºC (you can take advantage of the "small circles" left over, brush with the egg and take them to the oven as well to toast).
02
Add the shrimp kernels (preferably large) previously seasoned with salt and pepper. Cook over medium-high heat for about 5 min. Reserve.
01
Fill the vol-au-vents with the previous mixture. Bring to a preheated oven at 180ºC for about 5 min.
02
As a topping, sprinkle with cheese (optional). It is ready to serve.
Suggestion: it can also be served with a salad or white rice.
Note: this recipe makes 12 vol-au-vents. A single dose is equivalent to 2 vol-au-vents.