Now, login to Cuizeat and checkout at Continente Online!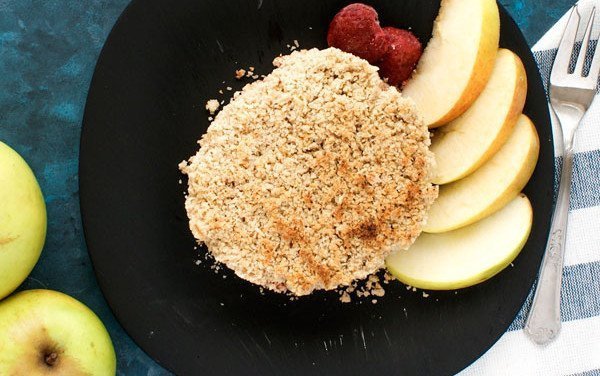 Apple and Strawberry Crumble
with almond and cinnamon
Intense, with excellent ingredients and a health-friendly dessert or snack that everyone can (and should) eat. The little ones will be fans, and parents will be pleased to be giving their children the best. If you have no children don't worry you will be a fan too! And if you have an ice cream ball to put on your plate, you just need to call the company that has to enjoy this special moment with you.
Ingredients
---
You will also need:
The following ingredients will not be added to your grocery list.
Nutritional Information
Calories (kcal)
Energy (Kj)
/ Per Dose
371 kcal
1,554 Kj
Nutritional real facts per meal might have small variations from the website nutritional info.​
02
Add the oatmeal now, mix and set aside.
04
Pour the mixture over the oatmeal and almond mixture and stir well until all dry ingredients are wrapped in the wet ingredients. Reserve.
01
Peel the apples, remove the lumps and cut into small pieces.
02
Then place in a pan with strawberries, 1 teaspoon of cinnamon and boiling water to cover only the bottom of the pan, about 1 cm high.
03
Cover the pan and bake for 10 min until the fruit is soft. Meanwhile preheat the oven to 200º.
04
When the fruit is soft switch to a baking tray and lay the crumble topping over it.
05
Bake about 25 to 30 minutes (be careful not to burn) until surface is golden and ready to serve.
Note: This recipe can make 6-7 slices of crumble. One single serving equals 1 slice of crumble.