Now, login to Cuizeat and checkout at Continente Online!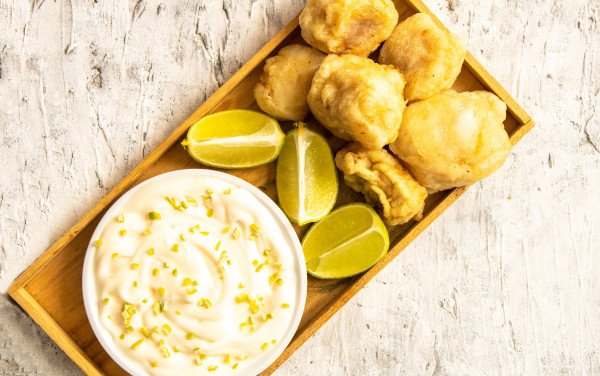 Monkfish Tempura
with flour, egg, yeast, mayonnaise, lime and lemon
Tempura is a traditional dish of Japanese cuisine, basically they are vegetables, a mixture of vegetables, fish or certain seafood dipped in a thin batter and fried. This version of monkfish, or if you prefer swordfish, will be a hit at home!
Ingredients
---
You will also need:
The following ingredients will not be added to your grocery list.
Nutritional Information
Calories (kcal)
Energy (Kj)
/ Per Dose
567 kcal
2,374 Kj
Nutritional real facts per meal might have small variations from the website nutritional info.​
02
In a bowl add a cup of fine flour, baking powder and salt. Mix and add the castle water. Stir, but don't completely break up the lumps.
03
Add some ice cubes or put the tempura in the cold (the colder the better). Reserve.
05
Serve the tempura with the mayonnaise. Serve with a salad or white rice, if you prefer to serve it as a meal.
Note: you can also make this recipe with swordfish