Now, login to Cuizeat and checkout at Continente Online!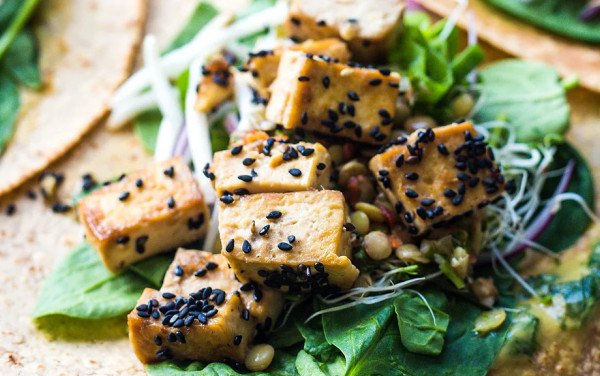 Super Protein Vegan Wraps
with spinach, bean sprouts, lentils, tofu and soy sauce
The secret to wrap is the way I cooked the tofu, or better, like the marinei! I usually leave the tofu to marinate overnight, but you can also make a quick marinade in 30 minutes. But remember, the longer the marinade, the more flavor it will have!
Ingredients
---
You will also need:
The following ingredients will not be added to your grocery list.
Nutritional Information
Calories (kcal)
Energy (Kj)
/ Per Dose
778 kcal
3,253 Kj
Nutritional real facts per meal might have small variations from the website nutritional info.​
Note that the sauce in this recipe should be creamy and not too liquid.
01
Start by removing the tofu from the package and remove the moisture with the help of absorbent paper on each slice.
02
Cut the tofu into cubes and place in a bowl.
04
Heat a skillet well and cook the tofu until golden, adding olive oil (or sesame oil) halfway through the process.
05
Remove from heat and add a pinch of sesame seeds.
06
Heat the wraps in a frying pan for 10 seconds on each side and place on a plate.
Note: This recipe can make 8 wraps. A single dose is equivalent to 2 wraps.