Now, login to Cuizeat and checkout at Continente Online!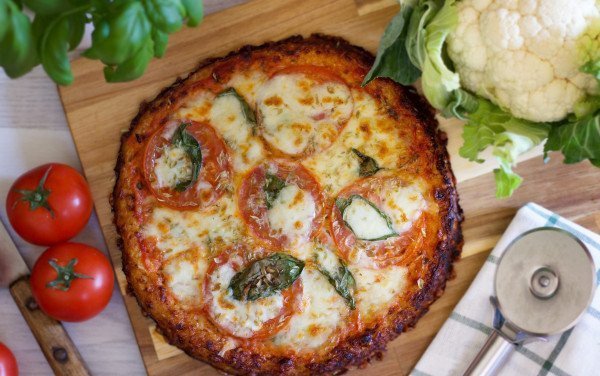 Cauliflower Margherita Pizza
with mozzarella cheese and parmesan
A Base of Unbelievable Texture and Flavor ... The Rest is Classic!
Ingredients
---
You will also need:
The following ingredients will not be added to your grocery list.
Nutritional Information
Calories (kcal)
Energy (Kj)
/ Per Dose
684 kcal
2,861 Kj
Nutritional real facts per meal might have small variations from the website nutritional info.​
01
Grate the cauliflower roughly in a kitchen processor. Grate a small amount at a time so as not to get drenched. Grate the parmesan roughly.
02
Bring a large skillet to the heat and add the grated cauliflower. On medium low heat let the cauliflower slowly dehydrate for about 10-15 min. The idea is not for cauliflower to color or fry! It is just dehydrating. This part is very important to get a crunchy pizza base.
04
Line a baking sheet with baking paper, make a ball of the dough and place it in the center of the pan. Spread and spread the dough in a circular shape until it is about 0.5cm high. Make a higher edge, about 1 cm high so that it does not burn as the outside bakes faster than the center.
05
Bake in the preheated oven at 220º for about 12 min until golden. Remove and let cool. With a spatula loosen the pizza base from the parchment paper without undoing it.
06
Cover the base with a few tablespoons of tomato paste and spread. Stuff the pizza with the thinly sliced tomatoes and tear the fresh mozzarella over the medium-sized pizza. Place the basil leaves and bake again in the preheated oven at 220º for about 8 min until the cheese is melted.
07
Before serving sprinkle with fresh oregano.