Now, login to Cuizeat and checkout at Continente Online!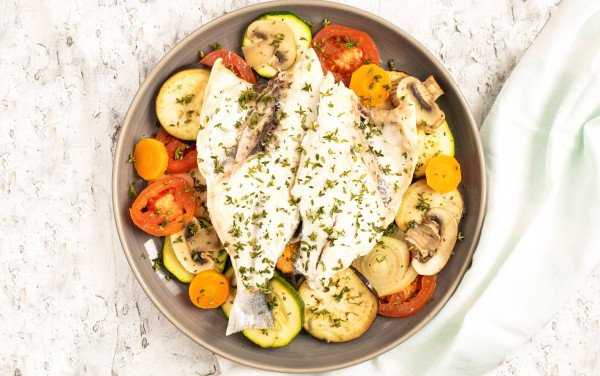 Corvina with Oven Vegetables
with aubergine, courgette, mushrooms, tomatoes and thyme
Baked fish is always a healthy dish and also very tasty. Be sure to try this recipe for corvina in the oven to eat and cry for more!
Ingredients
---
You will also need:
The following ingredients will not be added to your grocery list.
Nutritional Information
Calories (kcal)
Energy (Kj)
/ Per Dose
452 kcal
1,893 Kj
Nutritional real facts per meal might have small variations from the website nutritional info.​
If you prefer, you can also replace the scaled fish with fillets or portions (only 800g).
01
Start by climbing the croaker. Reserve.
04
Place in the oven at 180º and stir the vegetables from time to time.
05
After 15 min, take another tray to the oven with a drizzle of olive oil and the scaled fish (with the skin turned down), seasoned with coarse salt.
06
Let it cook for 15 to 25 min, remove the trays and serve, and you can add olive oil to taste.
Note: you can also make this recipe with one of the following species: grouper, sea bass or sea bream.