Now, login to Cuizeat and checkout at Continente Online!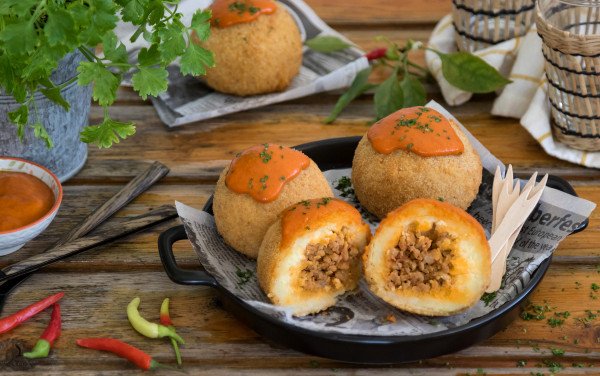 Meat Balls Stuffed with Meat
with fried tomato pulp, onion, wheat flour and breadcrumbs
No ideas for new recipes? We give a little help! Try these delicious stuffed potato balls that everyone will love!
Ingredients
---
You will also need:
The following ingredients will not be added to your grocery list.
Nutritional Information
Calories (kcal)
Energy (Kj)
/ Per Dose
311 kcal
1,300 Kj
Nutritional real facts per meal might have small variations from the website nutritional info.​
04
Prepare the MAGGI Mashed Potato, according to the instructions on the packaging.
05
With slightly moistened hands, form balls with the MAGGI Mashed Potato. Flatten them and place the minced meat in the center as a filling. Re-form balls. Place the stuffed balls in the refrigerator for 15 min.
07
Fry the balls in vegetable oil until they are golden brown.
08
Remove excess oil with absorbent kitchen paper.
09
At the time of serving you can add a spoonful of sauce on the surface of the balls and chopped fresh parsley (optional).
Note: this recipe can make 6 balls. An individual dose is equivalent to 1 ball.