Now, login to Cuizeat and checkout at Continente Online!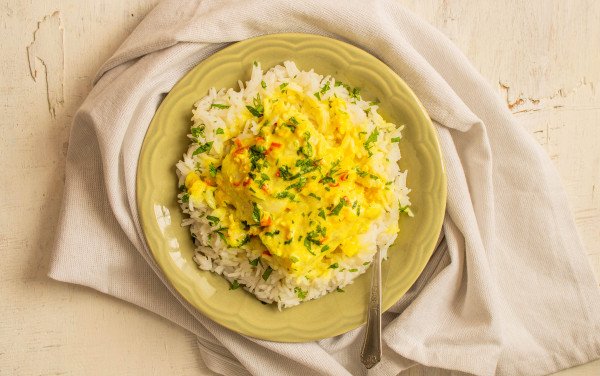 Grouper Curry
with basmati rice, coconut milk, ginger, coriander and curry
A colorful and tasty recipe, this grouper and shrimp curry is perfect for using evaporated milk Pingo Doce, a substitute for cream, without sugar and which adds a special touch of creaminess.
Ingredients
---
You will also need:
The following ingredients will not be added to your grocery list.
Nutritional Information
Calories (kcal)
Energy (Kj)
/ Per Dose
369 kcal
1,545 Kj
Nutritional real facts per meal might have small variations from the website nutritional info.​
03
Add the grated ginger, the chopped chilli (optional) - with or without seeds - and the curry powder (can also be in paste).
04
Add the coconut milk, stirring well (you can crush everything). Then add the fish into pieces until cooked and add the chopped coriander. Reserve.
03
Cover the pan, over a low heat, and cook for 15 min without ever uncovering the pan. Let stand 5 min.
04
Serve the curry over the rice.
Note: you can also make this recipe with mussels, sea bream or sea bass.