Now, login to Cuizeat and checkout at Continente Online!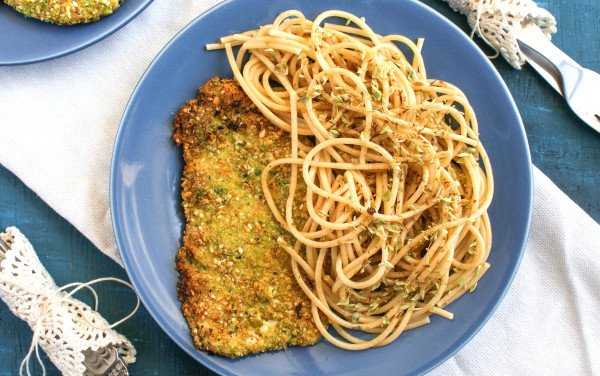 Frango Panado with Massa Integral Garlic and Oil
with egg, parmesan cheese, lime and sesame and flax seeds
The purpose of this dish is to be able to cook something healthy for the whole family and your children to understand that eating healthy can be similar to foods they typically like.
Ingredients
---
You will also need:
The following ingredients will not be added to your grocery list.
Nutritional Information
Calories (kcal)
Energy (Kj)
/ Per Dose
810 kcal
3,388 Kj
Nutritional real facts per meal might have small variations from the website nutritional info.​
03
In a mincer, place the flaxseed, sesame, 2 cloves of garlic, 12 basil leaves and 4 c.soup of parmesan cheese and chop everything very well. Reserve.
04
In a bowl, beat the eggs with a fork and pass the steaks through the preparation.
Para a Massa Garlic and Oil:
01
Place a pot of water to boil.
02
Add salt and as soon as it boils, add the spaghetti to cook.
Note: this recipe can make 8 chicken breads. An individual serving equals 2 breaded.