Now, login to Cuizeat and checkout at Continente Online!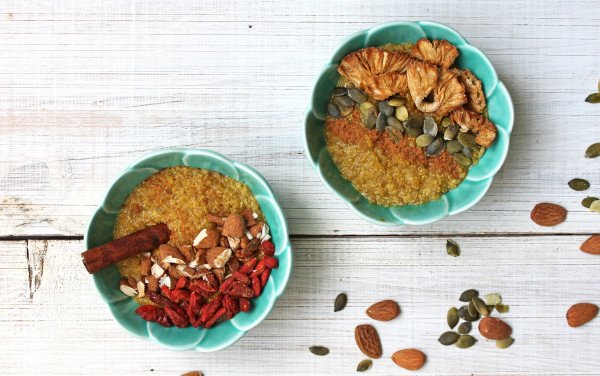 Sweet Quinoa
with egg, coconut milk, saffron, honey and cinnamon
A healthy recipe for breakfast, snack or simply to enjoy as a dessert.
Ingredients
---
You will also need:
The following ingredients will not be added to your grocery list.
Nutritional Information
Calories (kcal)
Energy (Kj)
/ Per Dose
257 kcal
1,077 Kj
Nutritional real facts per meal might have small variations from the website nutritional info.​
Note that this recipe needs to demolish the quinoa the day before.
To make the individual dose use 1/8 of the amounts of the ingredients.
01
Wash the quinoa and soak overnight (but it can also soak between 2 to 4 hours).
02
Cook in a pan with salted water for about 10 min.
03
When part of the water evaporates, add the turmeric powder, honey, cinnamon, coconut drink (previously heated) and wrap everything very well.
04
Remove from heat and add honey and egg (already beaten) in wire.
05
Wrap it very well and put it back on the fire, but this time with the fire very low so as not to boil.
06
Always stir so as not to cut.
08
Sprinkle with more cinnamon to taste and it's ready to serve.
Note: this recipe gives 8 bowl of quinoa. An individual dose is equivalent to 1 cup.