Now, login to Cuizeat and checkout at Continente Online!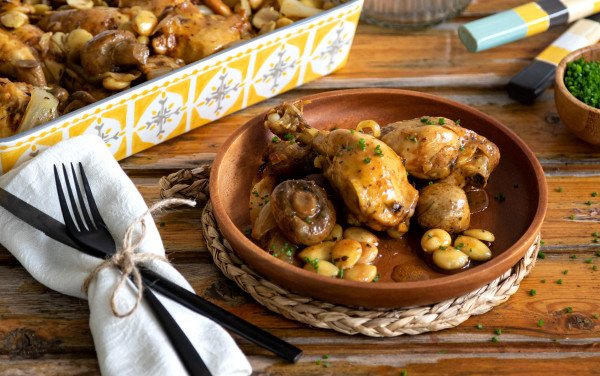 Chicken Legs with Mushrooms and Almonds
with onion and white wine
Sometimes the simplest dishes are the most delicious. Gather the right ingredients and prepare this delicious chicken with fresh mushrooms and almonds.
Ingredients
---
You will also need:
The following ingredients will not be added to your grocery list.
Nutritional Information
Calories (kcal)
Energy (Kj)
/ Per Dose
555 kcal
2,323 Kj
Nutritional real facts per meal might have small variations from the website nutritional info.​
01
Preheat the oven to 200ºC.
02
Peel and cut the onion into eighths. Reserve.
03
Place the 8 chicken legs inside the Succulent bag in the MAGGI oven and sprinkle with the MAGGI seasoning found on the bottom of the package.
05
Close the bag, following the instructions on the package, and mix well.
06
Place the bag on an oven tray. With the help of scissors, drill small holes in the top of the bag, in order to facilitate the escape of steam.
07
Place the tray on the bottom of the oven, without using the grill function and following the instructions on the packaging. Cook for 60 min.
Suggestion: serve with a salad or white rice.