Now, login to Cuizeat and checkout at Continente Online!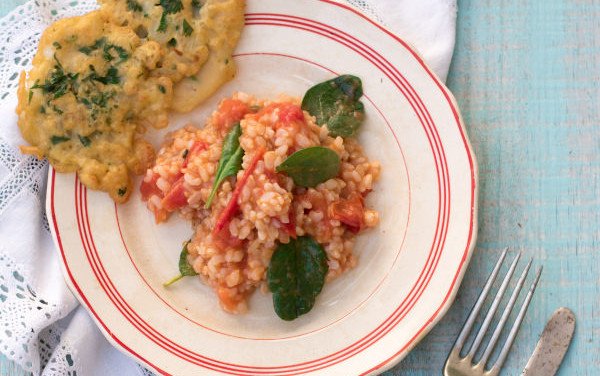 Chickpeas Fried with Tomato Rice
with brown rice, parsley and saffron
These fritters are crispy on the outside and tender on the inside! Healthy and light, they look wonderful with this creamy, tomato-brown rice.
Ingredients
---
You will also need:
The following ingredients will not be added to your grocery list.
Nutritional Information
Calories (kcal)
Energy (Kj)
/ Per Dose
389 kcal
1,628 Kj
Nutritional real facts per meal might have small variations from the website nutritional info.​
02
On medium-high heat, heat a drizzle of olive oil in a nonstick skillet. Pour a full tablespoon of the batter and let it fry a little.
03
The puree is almost liquid but thick when it comes in contact with heat. Place the onion in the fritters with the help of the spoon, so as not to be dazzled. Let it brown on one side and then turn to brown on the other. Add olive oil if necessary.
04
If you don't have enough olive oil, the fritters will look like pancakes, so add olive oil as needed. Drain them on absorbent paper.
02
Pour the 3 cups of water and season with coarse salt to taste. Cover and bake for 30 min. See if it's tender. Cover, let stand 5 min and is ready to serve.