Now, login to Cuizeat and checkout at Continente Online!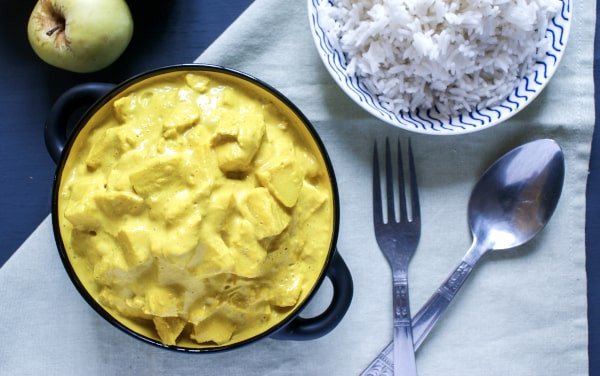 Chicken Curry with Ginger, Apple and Cinnamon
with basmati rice, coconut milk and saffron
A nutritionist-style curry, with all the flavor and a mixture of handpicked ingredients so that the pleasure of eating and the healthy can be side by side.
Ingredients
---
You will also need:
The following ingredients will not be added to your grocery list.
Nutritional Information
Calories (kcal)
Energy (Kj)
/ Per Dose
459 kcal
1,922 Kj
Nutritional real facts per meal might have small variations from the website nutritional info.​
04
At the end add the cut apple and cover. Adjust seasonings to taste.
05
You can add fresh coriander as a topping (optional).
01
Place the rice in a fine mesh strainer and wash well under running water for 2-3 min or until the water drains translucent.
02
Drain the rice well and set aside.
04
Bring to a boil, cover the pan and cook over medium heat for 8 min.
05
Keep the lid on the pan, remove from heat and let stand for 5 min with the pan always well covered.
06
Stir the rice with a fork and it is ready to serve.