Now, login to Cuizeat and checkout at Continente Online!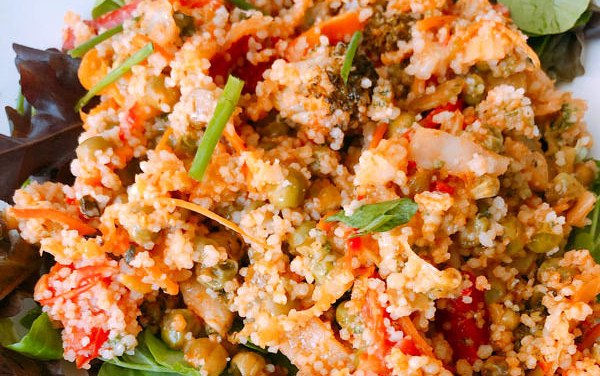 Quinoa Salad with Peas
with white cabbage, broccoli, carrots, peppers and mozzarella cheese
Vegetarian recipe that has all the essential amino acids, and is also a source of calcium, iron and fiber.
Ingredients
---
You will also need:
The following ingredients will not be added to your grocery list.
Nutritional Information
Calories (kcal)
Energy (Kj)
/ Per Dose
223 kcal
933 Kj
Nutritional real facts per meal might have small variations from the website nutritional info.​
01
Wash quinoa thoroughly with cold water. Scrub by hand and leave for at least 2 min under running water. Drain.
03
Add water twice the amount of quinoa, bring to a boil and add a pinch of salt. Reduce heat and cook covered for 15 min without stirring. Turn off the heat, drain the quinoa, and leave the quinoa in the covered pan for another 5 min. After this wait, stir with a fork to loosen the quinoa before serving it.
04
Accompany with lettuce leaves and it is ready to serve.