Now, login to Cuizeat and checkout at Continente Online!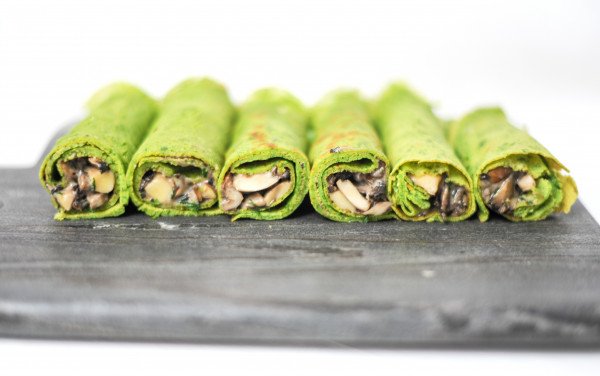 Sauteed Mushroom Rolls
with eggs, milk, chickpea flour, spinach, lemon and coriander
Mushrooms are "fruits" of the richest, most tasty and medicinal that exist on the face of the earth. Their ability to detoxify is immense, they absorb and eliminate toxins from our body in a very effective and safe way, in addition to enhancing the flavor of the other ingredients. The important thing is that we give them due value and include them in our meals!

---
Ingredients
---
You will also need:
The following ingredients will not be added to your grocery list.
Nutritional Information
Calories (kcal)
Energy (Kj)
/ Per Dose
236 kcal
988 Kj
Nutritional real facts per meal might have small variations from the website nutritional info.​
02
In a non-stick frying pan, pass the bottom with kitchen paper soaked in a little oil, without leaving any residue. Put the pan on medium heat, and when it is hot, pour a little of the dough, tilt the pan in all directions so that the funfo is completely covered with a very thin layer of dough.
03
Leave for about 1 and a half minutes and, when the edges start to lift, turn it over with the help of a rubber spatula. Leave it for another 1 min and remove to a plate.
04
Place the crepes on top of each other to keep them moist. And reserve.
01
With kitchen paper moistened with water, clean the mushrooms thoroughly (you can use any other type of your choice).
02
Then cut them into small cubes.
06
Stuff the crepes, roll them up and, with the help of a good knife, cut them into 3 equal parts.
07
Serve the rolls as a starter or as a main dish, accompanied with an arugula salad.
Note: this recipe is for 24 mushroom rolls. An individual dose is equivalent to 6 rolls.