Now, login to Cuizeat and checkout at Continente Online!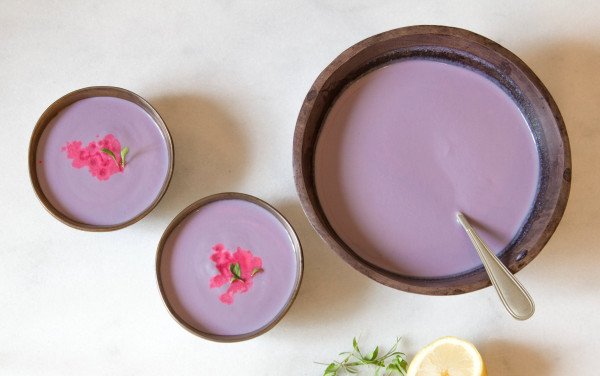 Purple Soup
with leek, celery, mushrooms, red cabbage, ginger and cashew
This red cabbage soup, besides being comforting, still surprises us by the intensity of the purple and the pink. The acidic ingredient of lemon not only decorates the soup, but also gives it a new dimension, as it makes the flavors come together and balance.

---
Ingredients
---
You will also need:
The following ingredients will not be added to your grocery list.
Nutritional Information
Calories (kcal)
Energy (Kj)
/ Per Dose
115 kcal
481 Kj
Nutritional real facts per meal might have small variations from the website nutritional info.​
02
Bring to a boil over high heat. When boiling, lower to medium and cook for 15 min.
03
Then add the stock until it covers the vegetables (if you don't have enough stock, top it up with water). Cook for 15 min on medium heat.
04
Grind the soup well in a blender.
05
Taste and rectify the seasonings.
06
Decorate with a few drops of lemon juice (you can also choose sprouts or chopped fresh herbs).
Note: You can replace the vegetable broth instructions with 1.2 Lt of water.