Now, login to Cuizeat and checkout at Continente Online!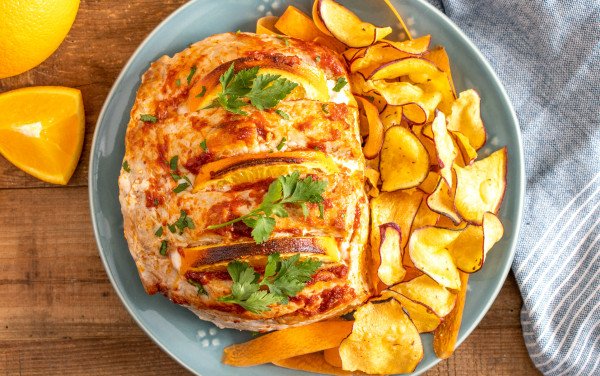 Pork Loin with Orange
with sweet potato chips, carrots, parsley, lemon and sweet pepper
It is a super versatile dish, since it can not only serve as a main meal, but can slice and take a sandwich to the office or beach and even use to make meat loaf.
Pork Loin is currently unavailable.
Ingredients
---
You will also need:
The following ingredients will not be added to your grocery list.
Nutritional Information
Calories (kcal)
Energy (Kj)
/ Per Dose
431 kcal
1,805 Kj
Nutritional real facts per meal might have small variations from the website nutritional info.​
Attention you need to make the first step of this recipe the day before (seasoning the loin).
03
Bake at 200º for about 15-20 min (depending on the type of tray you use).
04
Turn and let it brown. Then take it out and let it cool down a bit - when they cool down, they become super crunchy!
Suggestion: you can also serve this recipe with sautéed vegetables, sweet potato and pumpkin puree, cauliflower "rice" or broccoli "rice". Or simply with baked sweet potato cubes or a green salad.