Now, login to Cuizeat and checkout at Continente Online!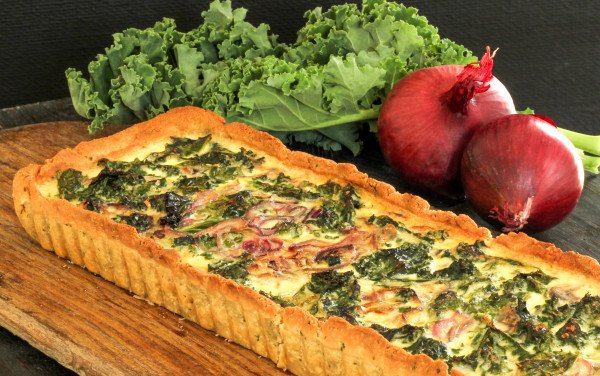 Kale and Red Onion Pie
with egg, brown rice flour, quinoa flour, milk and emmental cheese
I didn't want to stop sharing this recipe because the gluten-free base is not always easy to find. The recipe uses green curly kale, or kale, a very rich kale from a nutritional point of view, with antioxidant characteristics and fibers that are also very important for our body.

---
Ingredients
---
You will also need:
The following ingredients will not be added to your grocery list.
Nutritional Information
Calories (kcal)
Energy (Kj)
/ Per Dose
350 kcal
1,465 Kj
Nutritional real facts per meal might have small variations from the website nutritional info.​
If you do not find kale cabbage, you can substitute Portuguese cabbage or another type of cabbage of your choice.
01
Preheat the oven to 175ºC.
03
Place the dough in a non-stick pan and spread it out with your hands so that it has an even layer.
03
Meanwhile, with a fork or a magic wand, beat the 4 eggs, the milk and half the emmental cheese (or another of your choice).
04
Remove the pie base from the oven and pour the cabbage mixture, spreading it evenly across the base.
06
Bake for about 20 min or until golden.
07
It can accompany with a salad of lettuce and cherry tomatoes seasoned to taste.
Note: this recipe is for 8 slices of quiche. An individual serving equals 1 slice.