Now, login to Cuizeat and checkout at Continente Online!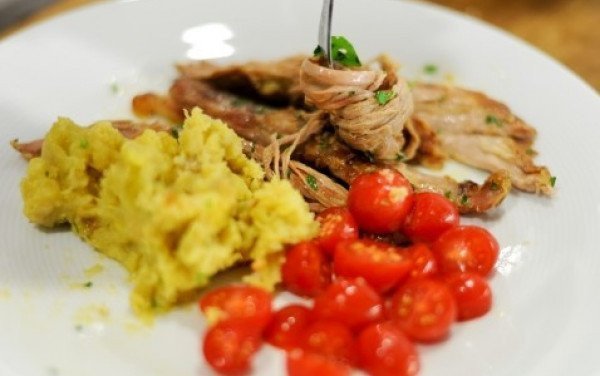 Duroc Pork Tenderloins with Sweet Potato
These Duroc Pork Tenderloins are very tasty and juicy. It is a recipe that despite taking a long time in the oven is very quick to prepare. Oven time is essential for them to cook slowly and the meat to crumble well and crumble on the plate.
Ingredients
---
You will also need:
The following ingredients will not be added to your grocery list.
Nutritional Information
Calories (kcal)
Energy (Kj)
/ Per Dose
877 kcal
3,670 Kj
Nutritional real facts per meal might have small variations from the website nutritional info.​
01
Preheat the oven to 150 ° C.
04
Drizzle with olive oil until it is 1 cm high (if necessary adjust the amount as it depends on the size of the container).
05
Bake for two hours. Turn the tenderloins every 30 minutes so that they are good on both sides.
06
In the meantime, put the potatoes (in the shell) on a tray and bake them in the oven as well.
07
About 30 minutes before the tenderloins are ready, remove the potatoes from the oven, peel them and crumble them roughly with a fork.
09
Remove the tenderloins from the oven and, with the help of two forks, tear the meat to obtain long strands.
10
Dip the strands of meat in the sauce to absorb the taste well and put back in the oven for another 10 min.
All ingredients in the recipe are gluten free. Suitable for celiac.