Now, login to Cuizeat and checkout at Continente Online!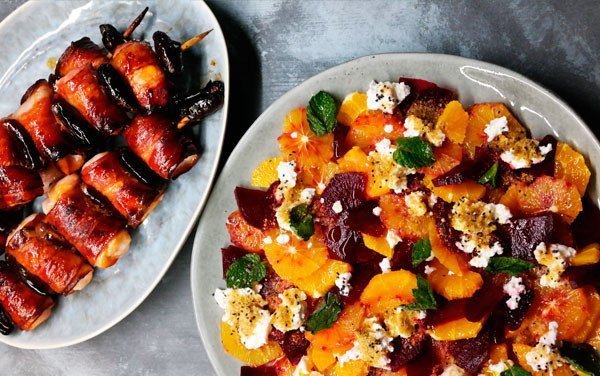 Chicken, Dates and Bacon Kebabs
with colorful citrus and beet salad
A comfort plate, full of flavor and contrast.
Ingredients
---
You will also need:
The following ingredients will not be added to your grocery list.
Nutritional Information
Calories (kcal)
Energy (Kj)
/ Per Dose
772 kcal
3,231 Kj
Nutritional real facts per meal might have small variations from the website nutritional info.​
Please note that you will need 4 wooden skewers to make the kebabs.
01
Put the wooden skewers in water. After 10 min, wipe up with a clean cloth and let excess water out.
02
Cut the chicken breasts into small pieces of 30g to have 16 identical portions.
05
Bake the kebabs in the preheated oven at 180 ° C, about 20 min.
01
Peel the oranges and cut into thin round slices (reserve ½ peeled orange to squeeze at the end).
02
Cut the cooked beets into thin round slices.
03
Compound the orange slices interspersed with the beets on a round plate.
06
Serve cold salad (should be refrigerated 1h until served).
Note: This recipe makes 4 kebabs. An individual dose is equivalent to 1 kebab.