Buy Online | Deliveries on wed / thu or fridays | To all Portugal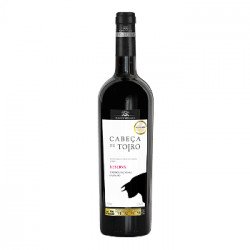 Vinho Tinto Cabeça de Toiro Reserva DOC Tejo 2016
Caves Velhas
EAN: 5601110113205
Ingredient: Red wine
Product Description:
CLASSIFICAÇÃO
DOC


REGIÃO
DoTejo


CASTAS
Touriga-Nacional, Castelão.


ENÓLOGO
Nuno Faria


ASPECTO
Límpido.


COR
Granada intensa, com tons violáceos.

AROMA
Abundante em frutos vermelhos bem maduros, com agradáveis notas tostadas.
SABOR
Frutado, macio, encorpado com final harmonioso.


VINIFICAÇÃO
Desengace total, maceração pelicular prolongada e fermentação alcoólica a 28ºC.


MATURAÇÃO
Estágio de 9 meses em barricas de Carvalho Francês.


SUGESTÕES DE CONSUMO
Acompanha peixes assados, carnes brancas e vermelhas e queijos de estrutura média.
Recipes with Red wine
There is a total of 0 recipes at Cuizeat with Red wine
This product does not have any recipes to display at the moment!