Buy Online | Deliveries on wed / thu or fridays | To all Portugal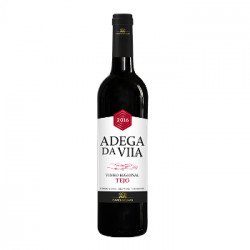 Vinho Tinto Adega da Vila Tejo 2018
75cL
Caves Velhas
EAN: 5601110003186
Ingredient: Red wine
Product Description:
CLASSIFICAÇÃO
Regional


REGIÃO
Tejo


CASTAS
Aragonês, Trincadeira, Alicante Bouschet.


ENÓLOGO
Nuno Faria


ASPECTO
Límpido.


COR
Rubi definida.
AROMA
Intenso em frutos vermelhos bem maduros e compota com ligeiras notas de especiarias.

SABOR
Frutado, macio, com estrutura equilibrada e persistente.


VINIFICAÇÃO
Desengace total, maceração pelicular prolongada e fermentação alcoólica a 28ºC.


SUGESTÕES DE CONSUMO
Acompanha bem peixes assados no forno, carnes vermelhas pouco condimentadas e queijos de pasta mole. Consumir à temperatura de 18ºC.
Recipes with Red wine
There is a total of 0 recipes at Cuizeat with Red wine
This product does not have any recipes to display at the moment!