Buy Online | Deliveries on wed / thu or fridays | To all Portugal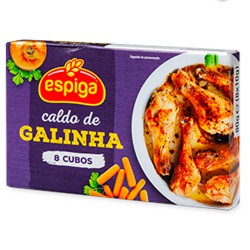 Product Description:
Ingredientes:
Sal, intensificador de sabor (E621), gordura vegetal de palma, galinha (6,3%), extractos de levedura, extracto de proteínas de soja, aromas (contém aipo e ovos), salsa (0,15%), extractos de cebola e cenoura (0,15%), antioxidante (extractos de alecrim).

Valores Nutricionais:
Por 100g: Energia (kJ/kcal) | 1030/250; Lípidos (g) | 20; Hidratos de carbono (g) | 4,5; Proteínas (g) | 14; Sal (g) | 57,8.

Conservar em local fresco, seco e ao abrigo da luz.
Recipes with Bouillon Chicken Cube
There is a total of 0 recipes at Cuizeat with Bouillon Chicken Cube
This product does not have any recipes to display at the moment!